BUILDING PERSONAL COURAGE,
FORGING MENTAL STRENGTH
CFV originally started in 2006 and has grown into a large community of athletes. We have over 8,000 square feet of space that we fully utilize daily!
CrossFit Valdosta was the 3rd CrossFit to open in the state of Georgia and was in the top 100 CrossFits to open in the world. Since 2006, our mission has been to keep people as healthy as possible, as long as possible. We believe that CrossFit HQ has laid down a very solid blueprint on how to accomplish this, and we try to follow it as closely as possibly tweaking when needed for our clientele.
Coach Danny Johnson
Owner
CrossFit Level 1 Trainer
CrossFit Kids trainer
I grew up in a very small town where wrestling and football were the main focus.  I had worked out my entire life and frankly had gotten tired of always cutting weight.  After graduating, I moved away and got a sales job. I was on the road a lot and got busy with life. After gaining about 30 lbs, I realized I needed to get my life and fitness back together. I moved to Valdosta in 2007 and our business building was right next door to CFV.  I walked over and was actually one of the first members at our gym.  The gym was very small at the time but quickly grew to fill up the building enough that the past owner had to expand.  I met my lovely wife at CrossFit Valdosta, so when the opportunity to purchase and take over the gym presented itself in 2016, we knew it was the right thing to do.  We truly enjoy the friendships we have made along the way and love making an impact on others' lives.
I still travel with my current job but make it into the gym to coach several times a week.  It is great to have personal bests and to PR on your own workout but there is no better feeling than helping someone push themselves to a new level in their own fitness.  I am a community coach for the Lowndes High School Wrestling team and this gym has opened the door to having our wrestlers come in and get high intensity training that is needed in their sport every day.
CrossFit will forever be a part of my life because it has made huge changes in my daily routine.  There's just something about CrossFit that keeps fitness fresh and intriguing.  Come join us!
Coach Heather Johnson
Owner
CrossFit Level 1 Trainer
CrossFit Kids trainer
CrossFit has been a huge part of my life since 2005.  I graduated from Dental Hygiene school and realized I needed to get my fitness in check.  After going to my first class, I knew CrossFit would be something I would do for a lifetime.  Shortly after joining, I met the love of my life who also was a member at the time.  Fast forward to the year 2016 when him and I purchased the gym from our long-time friend. It has been an adventure since day 1 and we love everything about the camaraderie and community that CrossFit brings to our life.  We cannot imagine what life would be like without CrossFit being a part of it.
I completed the Level 1 Course in August 2017 and decided to complete the CrossFit Kids Course in January of 2018.  We started our CrossFit Valdosta Kids program in May of 2018.  We have quickly grown and learned so much about ourselves and the little people of our gym.  We have a dynamic program that focuses on getting kids moving, building their self-confidence, teaching them team work, and most importantly, having FUN.
If you haven't tried CrossFit, I encourage you to do so.  It will change your life!
Coach Janis Lee
Crossfit Level 2 Trainer
Crossfit Mobility Trainer
CrossFit Masters
I discovered CrossFit at age 55 and was hooked immediately.  My daughter talked me into trying it. It is so much fun: the only exercise program that keeps you coming back because you WANT to do it and hate to leave where your time is up.  CrossFit is always challenging and never boring.  It's exciting to see what new goals you can achieve.  I became a Level 1 Trainer in 2013 and completed my Level 2 Training in 2018.  I specialize in training seniors and anyone of any age who finds entering the gym intimidating.  I can modify any movement to fit your personal needs.  My classes are small and welcoming.  You may have heard it said, "If I'd known I'd live to be this old, I'd have taken better care of my body."  Well, that's try for many people!  Don't let it happen to you!  Live your life to the fullest, even in advancing age.  CrossFit will help you achieve strength, balance, flexibility, and stamina so you can enjoy your senior years.  Come give us a try!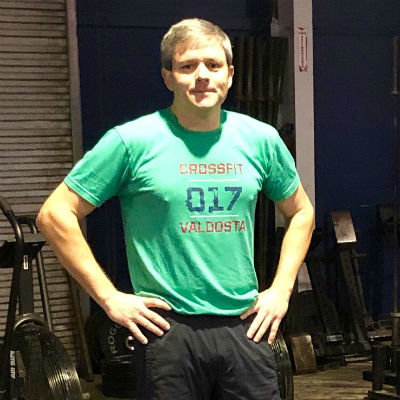 Coach Mark Howell
Crossfit Level 1 Trainer
I started my CrossFit journey eight years ago. I played baseball growing up and I was always in decent shape, but I never followed a regimented fitness program. I pretty much abandoned exercise after high school. My 30th birthday was a tuff one for me. Not that I was overweight, but I just did not feel healthy and I knew I was not getting any younger. Like most folks I started to exercise on my own 3-4 days a week for six to seven years. At this point I thought I was in good shape. Boy was I wrong. One day a buddy of mine that I worked out with challenged me to go try CrossFit and I have been hooked ever since. I cannot tell you how many ways CrossFit has impacted my life in a positive manner.  Now in my mid-40s, I am in better shape than I was at 18.
In the Summer of 2018, I decided to get my CrossFit Level 1 certification. I did not do it to become a "Coach." I did it to gain knowledge about the sport. I learned a ton during the process which will not only help me in the future but also others that I come in contact with. In a nutshell, my take on CrossFit is very simple. It is about becoming a healthier you and helping others become fit and healthier. It's that simple. There are so many misconceptions about CrossFit. I have heard all the excuses over the years. I promise you in my eight years of doing CrossFit I have seen many people walk through the doors and I can assure you that CrossFit is for everyone. Whether you are a child, senior adult or anywhere in between you can do CrossFit. There is a program that can be tailored for anyone. You will find me in the 5am class and I fill in helping out where I am needed.  All you have to do is take the leap of faith and walk through the doors for the first time. I promise you will be hooked immediately. Hope to see you soon…
Coach Carly Thomas
CrossFit Level 1 Trainer
CrossFit Gymnastics
CrossFit Mobility
Carly is a level one CrossFit certified instructor. She has been involved in CrossFit since 2010. In addition to having her level one, she has taken additional courses involving gymnastics and mobility skills. Her favorite workouts are chippers. Currently, she teaches a CrossFit Cardio class on Sunday afternoons. She loves programming workouts that not only get your heart rate up but also focus on core strength.
Carly is a pediatric dentist and has her own practice in Valdosta. She and her husband, Dude, have four children. Carly has been active in fitness most of her life. She has spent time in her past as a gymnastics coach, aerobics instructor, yoga training and running marathons. Carly truly enjoys exercise. She says her favorite thing about CrossFit Valdosta is the community of great people she has come to know.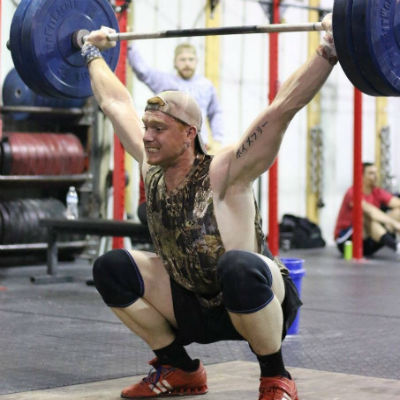 Coach David Owen
CrossFit Level 2 Trainer
I was first introduced to CrossFit in 2011 after graduating high school where I played baseball and football. I've always been into fitness and sports, and CrossFit is a great way to combine the two. Since finding CrossFit, it has become a staple in my life. I believe that it has not only gotten me in better shape physically, but also made me mentally tougher.
I have been coaching since January of 2013, and currently have my level 2 certification. I love watching the members of the gym constantly strive to better themselves.
My favorite part about CrossFit is the community. It is guaranteed that you will meet some amazing people inside of CFV! I can also assure you that CrossFit really is for everyone.
Coach Robbie Medlin
CrossFit Level 1 Trainer
CrossFit Kids Trainer
In my early twenties I had a complete lifestyle change. I decided to get off the couch and start competing in Olympic Distance Triathlons, as a result I went from 238 pounds to 169 pounds! After being exposed to mountain biking, I eventually transitioned to riding single speed and I became completely obsessed. My hometown of Richmond, Virginia is saturated with awesome trails to ride as well as being the host of the 2015 UCI World Championship Road Race
When I moved to Valdosta in October 2017, I was looking for something similar to the Mountain Biking sport/community. I was introduced to CrossFit and soon afterwards I immediately got hooked on the community and high-intensity nature of the sport. I was soon hitting lots of PR's after consistently going to classes and retaining a coachable spirit. I knew I wanted to do more in the sport so after one year of being an athlete I completed my Level 1 Trainer Certification.
When I became a coach, CrossFit evolved from an interest into a passion. As a passion, I am totally committed to the sport and I don't make any room for excuses. I also accepted that being a CrossFit Coach is a great accountability tool for myself. In order for me to be an affective leader and influence athletes, I needed to dial in my nutrition and lifestyle habits. Don't get me wrong, there is much satisfaction in rewarding hard work and I am big fan of training optimally as opposed to maximally.
As a Coach I want to be a role model for the sport, I may never make it to the CrossFit Games but I am delighted when I see athletes smash goals or obtain new skills! It's definitely a rewarding sport and the emotional connections I have developed are bar none!
I am devoted to inspiring others in and outside of the box, daring athletes to elevate themselves to new levels, and finally using CrossFit as a platform to encourage people to realize they are better than yesterday! They just need to show up and have a positive mental attitude!
My favorite style of WODs are long grueling MetCons, as a former Triathlete I know how to go in the pain cave. I love any kind of Big Hero WOD, especially those with barbell cycling or kettlebells! The aftermath is usually a big endorphin high, lots of camaraderie, and forgetting a personal item at the gym, whoops!
I am esteemed to have the title of CrossFit Kids Coach, as well as leading the Advanced Kids Class. I get excited thinking about their own personal fitness journeys and it is my plan to steer them in the right direction to help achieve their own personal goals.
When I am not at CrossFit Valdosta, I take pleasure in traveling (where I usually visit a new CrossFit Box), practicing Yoga, or visiting new restaurants.
I encourage everyone to try CrossFit, it's infinitely scalable. There is a great chance that you will make plenty of new friends, you can potentially meet your spouse! Additionally, you will be surrounded with other goal-oriented people who will help you as well as encourage you to be better and grasp things you may have only dreamed of. CrossFit Valdosta feels more like a family and the fellowship you will be exposed to will keep you coming back. Also did I mention kettlebells?
Coach Leslie McGhin
CrossFit Level 1 Trainer
Leslie has been a CrossFit athlete since January of 2014. She is a former Elementary School Teacher and actively taught school for 15 years. She also coached gymnastics for 5 years. She started coaching CrossFit in May 2018. She has an athletic background and did Competitive Gymnastics for 9 yrs and Cheerleading for 2 years in her youth. This is what she has to say about her crossfit experience:
After working out in a regular gym setting with a personal trainer for 3 years, I realized that I wasn't seeing the results that I expected to see. I heard about Crossfit from a friend, and decided to give it a try. I was nervous and a little intimidated at first, but soon realized that I was surrounded by a community of people that encouraged me to be the best "me" I could be! After a couple of months of Crossfit I was hooked! I loved the constantly varied workouts, and (of course) all of the gymnastic movements. I began to see results within a few months without even being aware of the changes that were taking place. More than the fitness side of Crossfit, I love being surrounded by a community that has become my extended family!
I was encouraged by my Coach to attend the Crossfit Level 1 Training Course. At 48 years old, this was a huge step out of my comfort zone! After so much encouragement and support from my Crossfit family, I completed the course and received my Level 1 Trainer status in April of 2018. I was very grateful to have the opportunity to learn and grow as a CrossFit coach. My goal is to help others gain confidence in themselves as they begin their fitness journey. I love cheering others on as they set and reach goals!
Coach Kaylee Kopke
CrossFit Level 1 Trainer
Growing up I was never the one to be involved in any sports or to be incredibly active. Though both of my parents were incredibly fitness oriented, it just never called to me. But, as I got older I decided that it would be good for me to give it a try and find an outlet in it. I tried the "regular gyms" route but eventually I just noticed how out of place and uncomfortable I felt going there. Until I tried CrossFit for the first time. Every day I learned something new and every day I got more confident within myself, which is something that prior to starting I had never felt before. Not only that, but CrossFit has also given me the opportunity to meet and gain true friends. The CFV community is such a special place to be at and has been a saving grace for me, a home. They push me to be the best version of myself, both inside and outside the gym.
Since becoming a CrossFit coach back in 2018, it has been such a pleasure to watch and guide everyone else to be more confident and capable with their own bodies.
CrossFit Valdosta
Keeping people as healthy as possible, for as long as possible