BUILDING PERSONAL COURAGE,
FORGING MENTAL STRENGTH
CFV originally started in 2006 and has grown into a large community of athletes. We have over 8,000 square feet of space that we fully utilize daily!
CrossFit Valdosta was the 3rd CrossFit to open in the state of Georgia and was in the top 100 CrossFits to open in the world. Since 2006, our mission has been to keep people as healthy as possible, as long as possible. We believe that CrossFit HQ has laid down a very solid blueprint on how to accomplish this, and we try to follow it as closely as possibly tweaking when needed for our clientele.
Coach Jordan Taylor
Co-Owner/Head Trainer
CrossFit Level 2 Trainer
CrossFit Movement and Mobility
USAW Level 1 Sports and Performance Coach
Why CrossFit? That is the question that is posed by many coaches and athletes throughout the CrossFit community. I began CrossFit In January 2011. Since my first intro class/fit test, my idea of fitness has evolved. Prior to joining CrossFit I had participated in numerous other workout "fads." I was tired of the same workout routine every week. I wanted something fun, challenging and competitive. I discovered CrossFit through a co-worker in the Air Force. Since the second I walked through the doors of my first CrossFit gym, I have never looked back. I have chosen CrossFit as a part of my daily health regimen because of the community and mental toughness forged by every workout that I have ever done, not to mention the unspoken truth of why everybody really does CrossFit (to look good naked).
Coaching/helping others quickly became a passion. Not only do I want to perform and do my best every day, but I also want to see each and every person that I am honored to come into contact with push themselves and become the best they can be. Helping to forge mental toughness and physical transformations that the athletes undergo are rewards that will last me a lifetime. It is an honor to be a part of such an amazing community at CFV, and I look forward to working with each and every one of you.
Coach Danny Johnson
Co-Owner, CrossFit Kids trainer
CrossFit Level 1 Trainer
I grew up in a very small town where wrestling and football were the main focus.  I had worked out my entire life and frankly had gotten tired of always cutting weight.  After graduating, I moved away and got a sales job. I was on the road a lot and got busy with life. After gaining about 30 lbs, I realized I needed to get my life and fitness back together. I moved to Valdosta in 2007 and our business building was right next door to CFV.  I walked over and was actually one of the first members at our gym.  The gym was very small at the time but quickly grew to fill up the building enough that the past owner had to expand.  I met my lovely wife at CrossFit Valdosta, so when the opportunity to purchase and take over the gym presented itself in 2016, we knew it was the right thing to do.  We truly enjoy the friendships we have made along the way and love making an impact on others' lives.
I still travel with my current job but make it into the gym to coach several times a week.  It is great to have personal bests and to PR on your own workout but there is no better feeling than helping someone push themselves to a new level in their own fitness.  I am a community coach for the Lowndes High School Wrestling team and this gym has opened the door to having our wrestlers come in and get high intensity training that is needed in their sport every day.
CrossFit will forever be a part of my life because it has made huge changes in my daily routine.  There's just something about CrossFit that keeps fitness fresh and intriguing.  Come join us!
Coach Heather Johnson
Co-Owner/CrossFit Kids Head Trainer
CrossFit Level 1 Trainer
CrossFit Kids
CrossFit has been a huge part of my life since 2005.  I graduated from Dental Hygiene school and realized I needed to get my fitness in check.  After going to my first class, I knew CrossFit would be something I would do for a lifetime.  Shortly after joining, I met the love of my life who also was a member at the time.  Fast forward to the year 2016 when him and I purchased the gym from our long-time friend. It has been an adventure since day 1 and we love everything about the camaraderie and community that CrossFit brings to our life.  We cannot imagine what life would be like without CrossFit being a part of it.
I completed the Level 1 Course in August 2017 and decided to complete the CrossFit Kids Course in January of 2018.  We started our CrossFit Valdosta Kids program in May of 2018.  We have quickly grown and learned so much about ourselves and the little people of our gym.  We have a dynamic program that focuses on getting kids moving, building their self-confidence, teaching them team work, and most importantly, having FUN.
If you haven't tried CrossFit, I encourage you to do so.  It will change your life!
Coach Abbey Wilkins
CrossFit Level 1 Trainer
CrossFit Olympic Weightlifting Trainer
I was introduced to CrossFit in 2011 at Wright-Patterson Air Force Bases' military affiliate. I had been looking for a workout program that would fill the void after retiring from gymnastics in 2009. After trying my first workout, "Dirty Thirty", I was hooked. I loved the challenge and community that was associated with CrossFit. Within a month, I was competing in my first open, followed by my first regional team competition. Three months later, I went for my Level 1 Certification and have been a volunteer coach at gyms across the country over the past six years.
Before finding CrossFit, I was an NCAA Division 1 gymnast at the United States Air Force Academy where I won numerous titles including AFA's Female Athlete of the Year, Women's Gymnastics MVP, Mountain West Conference Scholar Athlete of the year, and NCAA Scholar Athlete. During my first few years after graduating, I also volunteered as a coach at local gymnastics gyms in North Carolina and Ohio. The military moved my husband, Ken, and me to Valdosta about two years ago, and we love everything about CrossFit Valdosta. I'm a four-time regional competitor, with the most recent appearance in 2016, where I placed 25th in the Atlantic Regionals. In 2017, I placed 28th in the Southeast Region Open once again, but it was one spot short of qualifying for Regionals this year. Our military life moves us every few years, but regardless of where we go, our CrossFit community and friends have always made us feel welcome!
Coach Janis Lee
Crossfit Level 2 Trainer
Crossfit Mobility Trainer
I discovered CrossFit at age 55 and was hooked immediately.  My daughter talked me into trying it. It is so much fun: the only exercise program that keeps you coming back because you WANT to do it and hate to leave where your time is up.  CrossFit is always challenging and never boring.  It's exciting to see what new goals you can achieve.  I became a Level 1 Trainer in 2013 and completed my Level 2 Training in 2018.  I specialize in training seniors and anyone of any age who finds entering the gym intimidating.  I can modify any movement to fit your personal needs.  My classes are small and welcoming.  You may have heard it said, "If I'd known I'd live to be this old, I'd have taken better care of my body."  Well, that's try for many people!  Don't let it happen to you!  Live your life to the fullest, even in advancing age.  CrossFit will help you achieve strength, balance, flexibility, and stamina so you can enjoy your senior years.  Come give us a try!
Coach Harrison Culpepper
Crossfit Level 1 Trainer
CrossFit was the extra push, that drive that I had been craving. After high school I went from gym to gym, from workout partner to workout partner and just felt like I wasn't pushing myself like I could. I have a strong mind, so I love trying to push myself as hard as I can. Finally, at the beginning of 2018, I looked up CrossFit. I spoke with Jordan on the phone, who was very nice and friendly. I asked him endless questions. He told me that I just needed to come by and try it out. As soon as I walked in and felt the environment, I knew it was right.
I love coaching and helping others because I know what it is like to be out of shape and at an undesirable weight. I used to be 20 lbs heavier with a lot less muscle. I know the journey and path it takes. I want to be there for those that need the motivation just like others have motivated me.
Coach Jordan Bridwell
Crossfit Level 1 Trainer
I was first introduced to CrossFit in 2010 at a local "Globo gym" in my hometown while training for a body building physique competition. I was friends with some of the staff at the gym and they challenged me to a CrossFit workout called "Elizabeth" it is 21-15-9 of power cleans and ring dips. I was barely able to finish the first round and I gave up and never thought about CrossFit again. Fast forward two years I had just joined the military and was stationed in California. Once again, a friend of mine challenged me to a CrossFit style workout. He tailored the workout to fit me better because he knew I was not a fan of CrossFit. It was simple, just three rounds of max effort body weight bench press and max strict pullups. I was stronger than him and yet he still beat me. That sparked my interest and I figured there must be something to this CrossFit thing.
I got my full dose of CrossFit when I was stationed in Japan for 2 years. There I began to shadow the coaches at the gym. There I also competed in my first CrossFit Open in 2013. Fast Forward again to 2016 I received my CrossFit level-1 certification while in Seoul, Korea and immediately started coaching. I moved to Valdosta in 2017 and joined CrossFit Valdosta. Shortly after joining I became a part of the coaching staff. CFV has become my home away from home.
Weakness: Box jumps/rowing/running
Strengths: Gymnastics
Coach Dan Atkinson
Crossfit Level 2 Trainer
Dan Atkinson has been passionately seeking the best ways to optimize human performance for well over a decade. After graduating from Springfield College at the top of his class with degrees in Applied Exercise Science and Criminal Justice he set out to find the best path to share his passion and help as many people as possible live their best lives. After forays in commercial gym personal training and collegiate strength and conditioning, Dan found himself in the CrossFit world where he was able to greatly expand his reach and experience the power this community has in eliciting positive change. Since joining the Air Force, Dan has been seeking to keep this fire burning and is now blessed to have the opportunity to work with CrossFit Valdosta!  Along with his CrossFit Level 2 certificate, Dan is currently pursuing a graduate degree in Human Nutrition and is constantly looking to learn all about what it takes to get each and every one of us to experience an optimized life!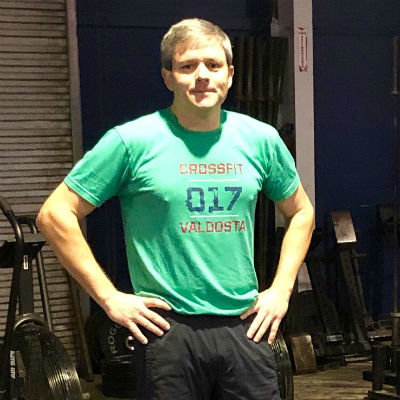 Coach Mark Howell
Crossfit Level 1 Trainer
I started my CrossFit journey eight years ago. I played baseball growing up and I was always in decent shape, but I never followed a regimented fitness program. I pretty much abandoned exercise after high school. My 30th birthday was a tuff one for me. Not that I was overweight, but I just did not feel healthy and I knew I was not getting any younger. Like most folks I started to exercise on my own 3-4 days a week for six to seven years. At this point I thought I was in good shape. Boy was I wrong. One day a buddy of mine that I worked out with challenged me to go try CrossFit and I have been hooked ever since. I cannot tell you how many ways CrossFit has impacted my life in a positive manner.  Now in my mid-40s, I am in better shape than I was at 18.
In the Summer of 2018, I decided to get my CrossFit Level 1 certification. I did not do it to become a "Coach." I did it to gain knowledge about the sport. I learned a ton during the process which will not only help me in the future but also others that I come in contact with. In a nutshell, my take on CrossFit is very simple. It is about becoming a healthier you and helping others become fit and healthier. It's that simple. There are so many misconceptions about CrossFit. I have heard all the excuses over the years. I promise you in my eight years of doing CrossFit I have seen many people walk through the doors and I can assure you that CrossFit is for everyone. Whether you are a child, senior adult or anywhere in between you can do CrossFit. There is a program that can be tailored for anyone. You will find me in the 5am class and I fill in helping out where I am needed.  All you have to do is take the leap of faith and walk through the doors for the first time. I promise you will be hooked immediately. Hope to see you soon…
Coach Rena Hall
CrossFit Level 1 Trainer
CrossFit Kids Course Completion
I was all too familiar with working out the standard cardio and weights and I found myself stagnant (and chatty) in my workouts. I have always needed to do something very active or my sleep and attitude were just not right. I was introduced to CrossFit in 2006 on my deployment and I found myself with a need to keep up (better). We were in a location that had a few barbells/dumbbells and a pullup bar but no standard gym or gym equipment. As you know this is how CrossFit thrives. We adapted main page WODs to ourselves and equipment for months and it was one of the only things that kept us going. It was and is definitely the best hour of my day. I was getting stronger, faster and more confident. After returning home I got to be that freak in a regular gym running all over "no, I'm still on that…" "this is called a thruster," "no, I'm not making it up," "I will try harder to set the barbell down quietly," and so on.
After separating from the Air Force and moving to Valdosta, GA for the first time I was excited to join and affiliate. CrossFit Valdosta was just opening up and that's when I realized the WOD is just part of it. The community is the foundation. After moving several times and getting plugged into CrossFit's all over, it was a relief moving back to Valdosta…because of CFV. Still being one of the best hours of my day, it was time to take my relationship to the next level and do to the Level 1 course. With a family history working against me I want to do everything I can. I also completed the CrossFit Kids Course soon after.  It is also important to help the next generation out and make sure that they outlive us. It's scary and real to think that our children's life expectancy might be less than ours. It is our duty to help them grow up healthy thru example and by teaching them.
Coach Carly Thomas
CrossFit Level 1 Trainer
CrossFit Gymnastics
CrossFit Mobility
Carly is a level one CrossFit certified instructor. She has been involved in CrossFit since 2010. In addition to having her level one, she has taken additional courses involving gymnastics and mobility skills. Her favorite workouts are chippers. Currently, she teaches a CrossFit Cardio class on Sunday afternoons. She loves programming workouts that not only get your heart rate up but also focus on core strength.
Carly is a pediatric dentist and has her own practice in Valdosta. She and her husband, Dude, have four children. Carly has been active in fitness most of her life. She has spent time in her past as a gymnastics coach, aerobics instructor, yoga training and running marathons. Carly truly enjoys exercise. She says her favorite thing about CrossFit Valdosta is the community of great people she has come to know.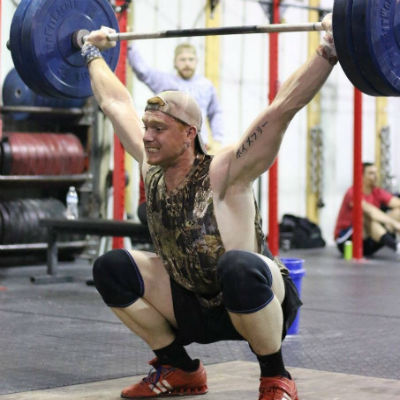 Coach David Owen
I was first introduced to CrossFit in 2011 after graduating high school where I played baseball and football. I've always been into fitness and sports, and CrossFit is a great way to combine the two. Since finding CrossFit, it has become a staple in my life. I believe that it has not only gotten me in better shape physically, but also made me mentally tougher.
I have been coaching since January of 2013, and currently have my level 2 certification. I love watching the members of the gym constantly strive to better themselves.
My favorite part about CrossFit is the community. It is guaranteed that you will meet some amazing people inside of CFV! I can also assure you that CrossFit really is for everyone.
Coach Joshua Bise
CrossFit Level 1 Trainer
My CrossFit journey started in March 2018 when a friend convinced me to go to the gym with him for a "quick" workout. 12 minutes and 48 seconds later I had completed my first Fran, and needless to say I was both exhausted and hooked. I found myself doing more and more research in my spare time regarding everything CrossFit. Everything from WODs, how to improve form, performance, even down to what shorts/shoes would be best to use. After returning from my deployment that same friend suggested I try CrossFit Valdosta due to the fact that one of the people he competed against had moved there and was now a coach.
It didn't take long for me to figure out that this was the sport that I needed and had been craving for a very long time. Up until this point I had done just about every other fitness and strength competition there is from strongman, powerlifting, bodybuilding and even physique. But CrossFit was something completely alien, yet all too familiar. The community is welcoming and the competition between one another was and still is tough. After about 4 months of coming to CFV 6-days a week, I decided to attain my CrossFit Level 1 certificate not only to coach and help others in their fitness Journey, but also to take a deep dive and learn more about the sport that I'm so passionate about now.
CrossFit Valdosta
Keeping people as healthy as possible, for as long as possible